Rhone/southern France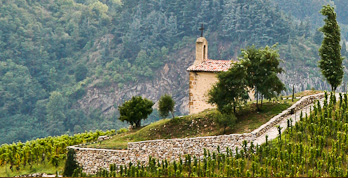 When driving south through France it always feels that as one reaches Lyon it should become hot and sunny – somewhat prematurely as there are still over 300 kilometers before reaching the Mediterranean. So the northern Rhone is cool, the northern limit of Syrah and that is what makes the grape perform so magically here, triumph through struggle. And it is a struggle, much of the good or great wine is grown on precipitous hillsides, steeply and narrowly terraced and useless as a workplace for those with vertigo.  Viognier, the north's most high maintenance grape variety is grown in similar conditions and the combination of hillside, river and the beginnings of mistral are essential to quality. Marsanne and Roussanne are other white wine vines found in this area where in fact white wine used to dominate. Côte Rôti, Condrieu, St-Joseph, Hermitage, Crozes, Cornas and St-Peray make up the north.
In the south, after a bit of a gap in the vines and some majestic wind turbines cunningly sited along the autoroute the southern Rhone begins. Supplementary: which two types of confectionary are produced in the Rhone valley? In the south we are much nearer the Med and Grenache takes over from Syrah as dominant red. Villages like Sablet, Rasteau, Gigondas and Chateauneuf-du-Pape all make hedonistic wines of varying quality and style. Picking the best and most interesting and delicious is our job. 
The south also gives us lipsmacking rosés from Tavel and Lirac. Travelling south and west from the plateau of Chateauneuf brings us to first Languedoc and then Roussillon, two regions lumped together yet of very different character. The former displays a split personality with many growers of the old school lost and angry as they fail to adapt to the loss of subsidies and the arrival of the market. On the other hand there are contemporary growers, entrepreneurial and energetic and often incomers, though plenty of natives are enthused by their vineyards' potential too. Their's is a green and pleasant land. Roussillon is rockier, more austere, a Catalan land of fortified houses and fortified wines on a bleaker, more imposing landscape.