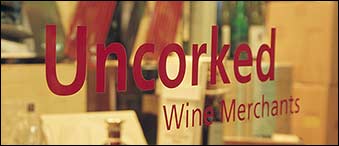 Uncorked: Forward Looking, Firmly Rooted
Uncorked is one of the UK's leading small, independent wine merchants. Working here involves spending a lot of time saying no to hopeful suppliers whose wine just doesn't make it in the quality stakes. The wines we buy from individual producers to sell to individual customers are here because we enjoy them, because they are very well crafted, and because the wine grower works in a way which we consider honest and transparent. Our size means that the whole team is involved in many of the decision-making tastings. It means we can be quick on our feet. It also means that our staff are better informed and that we can offer a more personal service.
Quality and reputation dictates that most of our sales and stockholding are French wines but Italy, Spain, Portugal, America, Australia, New Zealand and South Africa, not to mention port and spirits, also feature strongly. Although primarily a retail company, corporate and trade sales are expanding areas. Most of our business comes from referrals and loyal customers. As a result, we have a comprehensive account sales system, whereby registered users can store and view reserves (including location and values), track orders and view previous ones, view account balances, and fine-tune mailing preferences. Information at your fingertips.
Our Prices
This is the City. There's no more price-conscious environment. A lot of our wines (although by no means all) are expensive; they are all, however, very competitively priced. Our pricing is also completely transparent, whether in bond or duty-paid, by the case or by the bottle. Do your own comparisons: we're sure you'll let us know if you disagree.