2019 Burgundy vintage report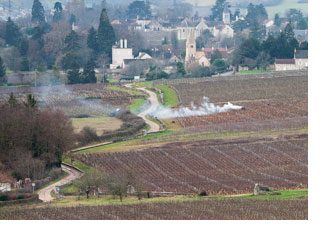 A compelling vintage
Low yields, great wines
In a thumbnail, 2019 Burgundy is all about low yields; fewer and smaller grapes, with less juice. But that has also meant more concentrated juice, and some remarkably intense wines. These are not out of balance; freshness and acidity have been concentrated as much as the ripe fruit, making wines that are as elegant and complete as they are intense. It was overall a warm year, with the wines displaying the natural ripeness of a generous vintage. But there were no potentially damaging heat spikes to contend with (an issue in 2018), when temperatures soar suddenly. And crucially, nights stayed mostly cool, preserving acidity and aromatics, allowing the wines to keep the natural freshness that offsets and balances the warmth of the fruit. Of such conditions great vintages are made.
The season: new normal and hot summer
Winter 2018-2019 was dry, leaving water reserves lower than usual going into the growing season. The vines would have less water to draw on when the hot months of summer kicked in, and this was one of several factors keeping yields low. Spring arrived early, as it has done for the last few years – this is Burgundy's 'new normal', and one of the things growers bear in mind as they consider the impact of global warming on the region. It brings risks. Freshly opened buds are delicate things, and they can easily be wiped out by a sudden frost snap. In recent years, with budbreak arriving earlier on the calender, this has become a bigger threat. Sure enough, frost hit the region twice in April 2019, causing damage mainly on the Cote de Beaune, especially in Chassagne-Montrachet. June and the first half of July saw cool, damp, unsettled weather, leading to coulure (failure of flowers to pollinate) and millerandage (irregularly sized berries), meaning fewer and smaller grapes on the vines. Then a hot and dry summer set in. With low water reserves to draw on, grapes concentrated as water evaporated. The dry weather meant there was very low incidence of disease and when harvest came around mid-September, vignerons were bringing in grapes in perfect condition.
The season's very low yields come from the combination of low water reserves, frost, coulure and millerandage; on the plus side, the fewer and smaller grapes of the year concentrated all the goodness that in a more generous year would have been spread among more grapes.
The whites
Whites across the region have managed the difficult trick of combining freshness with concentration and intensity, and there are some remarkable wines. We also tasted a few that hadn't handled the hot season so elegantly, and these were firm and foursquare rather than exciting – happily not among the producers we habitually list. But these were surprisingly few – Chardonnay is an adaptable grape, and has of course flourished in some of the wine world's hotter regions. In 2019 Burgundy, look out especially for wines from cooler sites, which always do well in warmer vintages. We tasted some lovely wines that highlighted the classic differences of terroir on the Cote de Beaune; the tense, mineral energy of wines from fruit grown on mainly limestone soil, versus richer, creamier wines from fruit grown on more clay-heavy soils. Chablis has excelled, and it is undoubtedly a great vintage for the region; the wines manage to be ripe and intense while still displaying true Chablisienne mineral typicité.
The reds
As with the whites (but perhaps even more so) the 2019 Burgundy reds are all about that elusive, magical combination of balance, concentration and freshness. The tastings have been a real joy, with few fails and some very impressive successes. Warmer vintages do sometimes mask terroir character, which can disappear behind a blur of ripe fruit and polished new oak, but that was emphatically not the case in our tastings this year, which displayed sets of wines marked by a real sense of village and site. Winemakers up and down the region remarked on the high quality of fruit as a gift of the vintage, requiring little effort in the winery.
The campaign
We'll be offering wines over the next few weeks. The low yields in 2019 Burgundy do of course mean less wine, so allocations will be tighter than usual. Wish lists as always are welcome; there's no obligation but it does mean we'll try and offer to you prior to the general emails.
Limited availability on those marked with an asterisk
Chablis: Jean-Paul & Benot Droin, Christian Moreau*
Fixin: Berthaut-Gerbet*
Gevrey-Chambertin: Dugat-Py*, Fourrier*, Henri Magnien, Mortet*
Morey-St-Denis: Arlaud, Dujac F&P, Domaine Dujac*, Domaine des Lambrays*, Taupenot-Merme
Chambolle-Musigny: Barthod*, Bertheau*, Felettig*, J-F Mugnier*, Roumier*, Sigaut
Vougeot: Hudelot-Noellat
Vosne-Romanee: Grivot*, Michel Gros, Meo-Camuzet*
Nuits-St-Georges: Chevillon*, Gouges, Julien, Jean-Marc Millot, Tawse
Beaune: Drouhin, Jadot
Pommard: Comtes Armand
Volnay: Lafarge*
Meursault: Ballot-Millot, Jobard, Lafon, Roulot*, Tessier
Puligny-Montrachet: Pernot-Belicard, Sauzet
St-Aubin: Marc Colin, Joseph Colin, Lamy
Chassagne-Montrachet: Philippe Colin, Bernard Moreau*, Thomas Morey, Niellon, Paul Pillot
Rully: Jacqueson*
Givry: Lumpp, Clos Salomon
Mercurey: Charton, Raquillet