Burgundy 2015 en primeur visits
Thursday 10th
The day starts in the deep south of the Cotes Chalonnaise, which having navigated Chagny correctly doesn't take as long as you think. However we always get lost in Rully so weren't as early for our appointment with Paul and Marie Jacqueson as I feared. They did their harvest from 5th to 14th September and got natural alcohol of around 13.5%. They had a lot of small grapes especially on the old vines so yields were around 25hl/ha for the reds and 35hl/ha for the whites. All but one of the wines had just been bottled and despite that they showed excellently with great character and defined differences between the vineyards. They were busy with customers and the bottling so not much chance to chat but Paul is very relaxed and open.
I'm not sure you can describe Vincent Dureuil-Janthial as relaxed though he was trying his hardest. His harvest began in the first week of September and lasted 9 days. They didn't need much sorting of the grapes and got 13% natural alcohol. Both the straight Bourgognes were very good, the white in particular, which comes from three parcels in Puligny. The thick skins and small grapes on the reds showed in dark and very purple wines but the tannins were fine and there is a lot of finesse. The whites are very finely made; they have a cool character that is very seductive. Vincent's rigorous approach to respecting the terroirs has paid off again.
Further down to Givry and the Lumpps, who began their harvest on 29th August. They give their white wines 30% new oak and the reds get 70%, which on paper is a lot, but in practice the oak has already pretty much disappeared. These wines represent such good value, even if you don't compare them with their natural peers in somewhere like Gevrey or Morey. All should be safely in bottle by early January if not before.
Our next appointment is Grivot so we whizz up to Chambolle to see if we've hit one of La Chambolle's rare opening days. We haven't. Obviously. But there is another restaurant, Le Millesime, which does a very good and cheap set lunch. At Grivot we get the tour of the new office block and tasting room that they can use for entertaining clients. We have moved, said Etienne, from cro-magnon to modern. It is impressive. As are the wines. He has a new Lacanche, damn him. Etienne adores the 2015 and so do I. They have started to close down this week as the cold snap takes effect in the cellars but the quality of the texture and tannins, the balance of the acidity and fruit is spot on and the wines are as precise as they are rich. The fine acidity - Etienne been harvest on 10th September and picked with pH of 3.2 - gives the wines energy and drive. Also, we tasted 3 of the 2014s here, now in bottle and they are fabulous. I'm only telling you because I've bought what I want. But dig in, you won't regret it.
Last visit of the week is to Chambolle to taste the Beaujolais of Louis Boillot and the Chambolle-Musigny of Ghislaine Barthod. Someone in our party complained that you couldn't taste the Gamay in the Beaujolais, though I don't really see that as a problem. What you do taste is that granite slope. Louis Boillot is in Moulin à Vent and the wines have the power of that commune. Ghislaine picked on 5th September at 13% natural alcohol and she destems 100%. The wines are very 2015 and much more Chambolle. So they have the richness of the solaire vintage and its acidity, while above all the delicacy of Chambolle and of Barthod. They are really good and as we emerge into the darkness and drizzle of our last evening in Burgundy to say our goodbyes,  it is a fitting and top drawer end to the week. 
Wednesday 9th
In 2012 Lydie Boillot presented us with one of the best flights of white I've ever tasted. In 2015 she did it again. Jean Marc Boillot has turned into one of the best white wine domaines in Puligny, given they're in Pommard. Of course the vintage is different and these are full of white flowers, stone fruit, mandarin and layers of complexity with fine acidity and texture. Superb. As ever the Bourgogne Blanc is excellent.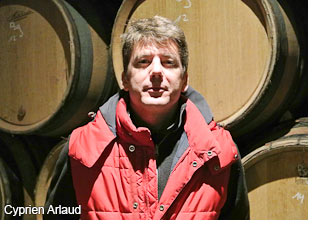 After that quick post breakfast detour south we are in the Cote de Nuits for the remainder of the day. I think you would do whatever Cyprien at Domaine Arlaud told you, because there would be a solidly researched, considered and incontrovertible reason. This is one of the most thoughtful vignerons in the Cote and from Roncevie to Clos de la Roche the results of that thought and execution are plainly in the wines. He thinks 2015 does bear relationship with 2005 and that if they knew then what they know now, you wouldn't have to wait so long to drink 05s. His goal has always been to extract slowly and gently and not too much. They are biodynamic here and the ploughing helped enormously during the drought as the soil wasn't compacted and so able to absorb the August rain and feed it to the vines. He has also found the old vines have benefited from biodynamic farming and they have a good second wind now. The wines are super.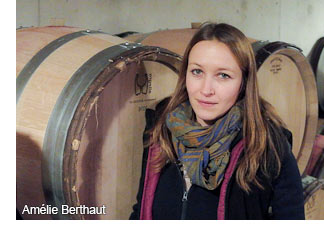 Last year I thought the Berthaud-Gerbet (as they are all labelled from 2015) wines were very good. I even bought some. This year they have gone up a further notch as Amelie continues to build on her father's previous hard work in the vineyards with more precise work in the cellar.  They have a new cellar in fact, or a large extension and new, smaller, round concrete tanks for fermentation.  More of this will change as they can afford it and the result is more precision and finesse in the wines, whether the Fixins or the Vosnes and Gevreys. Even the Clos Vougeot has fine tannins and elegance as well as expressive fruit.
On these trips one works jolly hard taking assiduous notes, asking questions in execrable French, listening hard for the secret of great Burgundy while acting as ambassador for Uncorked. Occasionally trying to be a grownup doesn't work. But after the pipette banter with irrepressible Arnaud Mortet we quickly settled down to taste a series of massively endowed Pinots. His wines this vintage are full and plush and carefully and precisely made. He uses about one third whole bunch in the ferment, and the wines, while big are still perfumed and full of energy. His harvest began on 3rd September. Like most growers he takes care with his barrel buying and loves the Cavin cooperage, but supplies are limited and in 2015 he could only get 12. It's a small operation but very high quality and barriques cost €900 ex Vat each. Divide that by 300 bottles to get the cost of the first year's maturation...
'I am a lazy man' says Thierry at Clos des Lambrays in the cellar. I've done 37 vintages and I don't want to work hard so 2015 was perfect for me. Nothing to do.' He has a very dry sense of humour despite being strapped up having fallen off his motorbike the previous week. It was an early and easy harvest, an easy ferment, easy malo, and of course as everyone knows Morey-St-Denis is the greatest terroir in the Cote d'Or. He's half joking but I completely agree. All three wines are excellent and as we are lucky to coincide with an oligarch we get to taste a popped and poured grand cru 1999,  which given the spontaneity of the gesture showed beautifully.
From Morey-St-Denis back to Vougeot and Hudelot-Noellat with Charles Van Canneyt. This probably edges it as tasting of the day if only because we have 13 consistently superb wines, again ranging from Bourgogne Rouge to Richebourg with everything in between and all, without exception, brilliant. Charles picked at 12.8% natural alcohol with good maturity in the grapes. Picking started on the 7th September and he is surprised to see that the 2015 are so precise and show the terroirs so much in such a warm and great year. Usually in these 'solaire' vintages it is the weather that dominates rather than the vineyards; not the case here.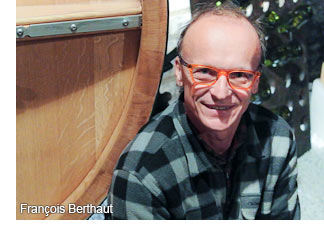 Off to Chambolle for the final visit of the day with François Berthaut - excitable winemaker of the week, whose conversational speciality, apart from rapidity of speech, is the tangent. His wines are up there with Ghislaine Barthod as some of the most elegant expressions of Chambolle. They have finesse, energy, gorgeous and rich fruit,  but still delicate and silky with melting tannins. The 1er cru is super. The Amoureuses is unaffordable so it is a great privilege to taste it. 
Tuesday 9th
We drove the short trip to Meursault to start the day with Charles Ballot at Ballot-Millot. Usually we taste in a room next to the office but today we go down to the cellars. Charles is one of the people who have moved Meursault away from the old fashioned oxidative and thick Chardonnay you could stand a fork in to wines that are much more precise and focused while still retaining a distinct style from Chassagne and Puligny.
One of the things he has done most is restore the vineyards. He started full time at the Domaine in 2000 and had a lot of soil analysis done, which found a lack of organic matter and indeed life in general apart from the vines. He's done a lot of ploughing and other work to aerate the soil and saw the amount of bacterial, insect and animal life increase enormously to the benefit of the vines. And while his Meursaults are more precise they still carry wonderful weight and powerful fruit drive. Charles' 2015 s are bright, vibrant and fruit packed.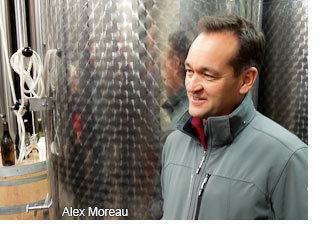 Alex is happy at Domaine Bernard Moreau. We are getting used to seeing happy growers despite the privations of the weather and the crop losses they've suffered. He showed us a range of wines with great balance and where the top alcohol was 13.1% so everything is cool. There are a lot of things that strike Alex as unusual about the vintage, one of which is how stable the wines are. He has left half a glass of each vineyards wine on top of a barrel and the wine hasn't changed in over a week. The last time that happened was 03 - not a popular vintage but one where premox is very rare. Alex picked much earlier than anticipated, starting on 28th August. Alcohol levels started to rise quickly and he didn't want to lose freshness.
One thing we've noticed in 2015 is just how amazing the 'simple' Bourgogne Blancs/Rouges and the village wines are. In a great vintage it is at the lower levels where the biggest uplift in quality is seen. The wines are fab, buy as much as you can!
Back into the centre of Chassagne to taste with Thierry at Paul Pillot. He also picked early, which he said was essential in 2015. He has grown to love the 2015. He was worried early on that the wines were too rich but now, after a year in barrels the tension in the wines has increased and he now thinks they are the child of 2009 and 2012. The Pillot wines are focused and though rich and layered and complex have fine acidity and texture.
I found the Philippe Colin tasting slightly unsettling. Here the wines were disjointed. They have very exotic tropical flavours and with a couple of exceptions very forward acid,  reminding me a bit of a clumsily acidified Aussie Chardonnay from the past. But you know these barrel tastings. Go back in a day and you could taste something else entirely.  Unfinished wines are very much alive and changeable.
At Tessier we were back to natural tasting wines, which Catherine showed us. These are layered and complex. Arnaud is a fiend for manual work, a maniac, his wife said and he has been busy in vineyards with ploughing and also converting old buildings to new uses by hand. One of the new bits is a new cellar, which they desperately need as they still have to sell some of their lovingly grown fruit to negociants because they simply have no space to vinify or mature them. These wines are vivid and like many of our tastings so far really demonstrate the differences between vineyards.
Lastly we finish the day at Hubert Lamy. I'm going to smash the Uncorked style guide and my own rules and tell you that he is passionate about his work (I'll let you off only because it is a blog - there are reasons - Ed). I hope you've watched the video on the link, I think Hubert is passionate more in the sense of a suffering Christ than any other. He suffers the slings and arrows of an outrageous INAO and CIVB with regard to many of his ideas and especially his desire to emulate some of his forebears inI've not been before and tasted few of his wines, knowing his reputation as the king of St-Aubin. Well, to quote Jim after the 21 2015 wines we tasted: 'I'm shocked, this is like tasting at Dagueneau or even Cotat for the first time.' There will be more about Hubert in the vintage report but to give you a clue in 2015 he only bought one barrel. This was a range of the most mineral and terroir driven wines I've tasted for a long time and I'm hoping to taste them again in January to see what another couple of months have done. But he's not planning to bottle for a while. And again as Jim said, if he's right, then everyone else is wrong. 
Monday 7th November
The adventure begins as we head into the unknown.  Word on the street is that this is a great vintage, but is it, and if it is, how is it? One of the problems with Burgundy is that even if it is brilliant someone will have done something weird,  so we need an early and reliable fix on the stars of 2015. So our first port of call is Jean-Marie Fourrier.  He is one of Burgundy's wise young(ish) men with a wide network of contacts and friends across the region; as well as being very observant and thoughtful and sometimes prepared to share.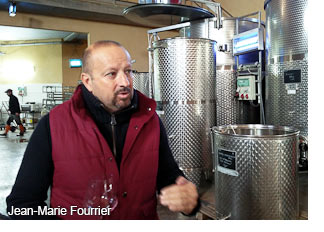 In case you were wondering about how hot and potentially unsustainable Burgundy is as a region,  he lead by mentioning a strong rumour that a small parcel of Echezeaux has changed hands for the equivalent of €16 mill/hectare. J-M said the quality of raw material was stunning and needed slow and gentle extraction for purity of fruit. Bear in mind that he is mainly a red wine grower so all comments apply to these. Some people are still trying to make vines fit in with their holiday plans, which rarely succeeds. He said they shouldn't take their summer holidays when they are custodians of such a valuable crop. Suffice to say there is a lot of material in his report that there isn't space for here. I should say that the wines were tremendous, especially given poor tasting conditions: overcast and a root day.
From Fourrier we went to Duroche where we certainly tasted the best and brightest set of wines we've ever seen there. He said he hadn't done much work in the cellar because he had been distracted by the birth of his child during harvest,  so his winemaking was the ideal style for the year.
Lunch at Castel Tres Girard was light and quick and put us in the mood for our appointment with another of Burgundy's brightest and best, Romain at Taupenot-Merme. He prepares all the samples for us in half bottles and they had all been racked and assembled two weeks ago. Romain said that Gevrey suffered most from the drought and heat of the vintage. All yields down in 2015 and because it started early the August rain did nothing to increase yield. What the heat and dryness did achieve was an almost complete lack of need for sorting tables. Another grower said, oh yes, in 2015 my father spent the harvest sleeping by the sorting table. At most they threw away 5% of the crop. Through climate change even vineyards that historically struggled to ripen their fruit now achieve ripeness easily, while in many sites the problem is not to harvest overripe grapes. 
After three visits it is apparent that this is a terroir vintage with perfectly ripe and balanced fruit, an ideal combination of factors. They also have the stuffing to last and have retained freshness despite the warm growing season with its heat spikes, including one just before the harvest. The red producers think that it might be something like a hybrid of 2009/10, or perhaps 2002. None of them has seen anything exactly like it. There may be a bit of a recession in the cooperage industry too as many growers are reporting having bought far fewer barrels in the last couple of years.
On to Robert Chevillon, a first for me. He is revered in Nuits-St-Georges and the first village wine has such a classic NSG perfume and pretty quickly it becomes apparent why.  Nuits has been changing and producers like Chevillon and Gouges have been at the head of the charge. As we go through the 1er crus they display vineyard variation and mounting power but also elegance, a deftness of touch and yet richness too. This is a vintage with rich fruit and one of the challenges for winemakers is to express that without oafishness.
To Domaine Gouges where Antoine Gouges, Greg's cousin and one of the young generation that has lifted this business to a new level. He is a fourth generation family member. Normal yields across top domaines in Burgundy are around 35-40 hectolitres (hls) per hectare (ha), in 2015 they were 24hls/ha and in 2016 were 17.
In 2015 one of the biggest problems to avoid was sunburn for the grapes if you leaf plucked too early and they had to manage the leaf canopy well to avoid this. The wines are harmonious and silky with fine tannins and beautiful aromas.
This evening we ate at Le Colombier,  which is a small restaurant with a tiny kitchen.  It was rammed and painfully slow. Arriving at 8.30 by the time our main course arrived it was nearly 11pm and we weren't sure if we had eaten it or not. It was jolly good when it arrived, but others have reported exactly the same issue. On the upside, the young sommelier knew his list inside out and it is a good one. 
Sunday 6th November 2016 
Since we were coming from different directions this year Jim and I met at Lyons Ste-Exupery,  which is huge for a 'provincial' airport. No short cuts for me as the French government has suspended Schengen arrangements so a lot of bewildered people who hadn't read their Easyjet advisory were rooting around for documents they thought they wouldn't need.  No need to rush though as Jim had been sitting on the tarmac at Gatwick while engineers argued about whether his plane was safe to fly and not after all waiting for another runway. 
After a long ride in a navette (shuttle bus -  stick with me kid) we got to Hertz who couldn't get their heads round a) how I had managed to navigate their execrable website and actually book a car and b) how I had been able to put it in my name while using Jim's credit card.  So after a while of amicable if somewhat circular banter,  which I'll leave to your imagination we were off in a Renault Captur. It is my first automatic since having to drive (not briefly enough) a knackered 1970s Honda in the early 80s, which had me swearing never to drive one again, but this seems remarkably civilised. Apart from the warning lights. One of them I think means check your slow cooker, it is a picture of a cauldron over a fire with an exclamation mark in the middle. That's yellow so presumably isn't urgent. The other is blue and a sort of thermometer and it is a lot colder here than it was in Rome at the weekend. But it has satnav built in, which has kept Jim amused and I didn't need it anyway. 
We are as ever staying at the Hotel Belle Epoque. I'm in an historical room and as not naturally very light probably qualifies as hygge. 
The where to eat on Sunday question is still exercising the finest minds of the UK wine trade and someone kindly booked us in to Le Benaton which we had given up on but is a bit better though not up to previous ownership.