Austria/Hungary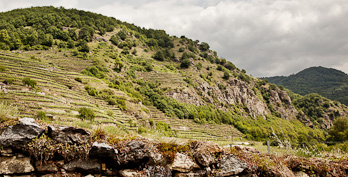 Used to be an empire all of its own, though I'm not sure if that's why the Great Uncorked Taxonomist has lumped them together. As wine countries they have relatively little in common, despite their both having taken the path less travelled by, in the words of the immensely smug poem. Each has its own varieties and styles.
Austria has Gruner Veltliner as its best known contribution to the world and a fantastically versatile one it is. In the hands of people like the Jurtschitschs and Pichlers it rises to heights not much found outside the inner circle of the -Montrachets. There is lovely Riesling too and Pinot Noir and Blaufrankisch for some top reds, while around the southern lakes delectably luscious, often botrytis affected wines are made.
Hungary is a country of two halves. Mad in the north is where Tokaji comes from, the Tokaj area is an ancient source of botrytis affected wines from Furmint and I was told recently has vineyards classified by monks in a way that the Cistercians of Burgundy used as a model. There are also some brilliant dry Furmints. Villany and Szeksard in the south have Kekfrankos (cf Blaufrankisch - see, now you know Hungarian for blue) and Cabernet Franc as well as super whites. None cheap though as you might naively have supposed.