2021 Bordeaux en primeur
Back to Bordeaux (classicism)
'This, for me, is a very strong (if not exceptional) Bordeaux vintage born in the context of extreme climatic adversity. It has produced what I regard to be a series of truly exceptional wines in every one of the leading appellations.'
'Even a handful of vintages ago, the combination of difficulties that the properties faced would have proved largely insurmountable. Yet the 2021 vintage is likely to be remembered for the quality (and perhaps also the singularity) of the wines it has produced.' - Professor Colin Hay, The Drinks Business
A time traveller's vintage. A neo-retro vintage. An Atlantic vintage. Nice Cabernet, naughty Merlot. Blood, sweat and tears in the vineyard. A chaotic season capped by an Indian summer. These are a few of the assessments of the 2021 Bordeaux vintage which winemakers gave us when we visited last week. After two years without visiting the region, it was a joy to be back. But with the first reports focusing on adverse weather conditions (or what Nicolas Glumineau at Pichon Lalande memorably called 'the wrath of heaven'), we arrived with a certain trepidation - what exactly was in store for us? In fact, what we found when we tasted were some delicious wines marked by fine tannins, energy, vitality and a sense of lift.
2021 is a very different vintage from the preceding three – all hot, dry years that produced concentrated, sweet wines. With alcohol levels typically coming in at 12-13% (rather than the 14.5-15% common in recent years) the 2021s are refreshing, and very drinkable. As the French like to say, they are gourmand wines; vivid, crisp, delectable. 2021 was one of the coolest years in Bordeaux of the last 25. Many winemakers characterised it as a return to a more classic style of vintage; a vintage in line with the cooler conditions typical twenty or thirty years ago, except with the benefit of contemporary know-how and the resources of modern technology. We often heard comparisons with 1996, 1999 and 2001, all vintages which are drinking beautifully now.
Reflecting on the difficulties of vineyard management in 2021, Carmes Haut-Brion's Guillaume Pouthier called the year 'a tightrope walker's vintage'. It certainly demanded unusual levels of commitment in the vineyard. It rewarded the better terroirs that more naturally shrug off difficult vintages. Not every wine is a success in 2021. But those winemakers who put in the work in the vineyard – and who held their nerve in the face of adverse weather forecasts towards the end of the season – enjoyed beautiful results. At Durfort-Vivens, Gonzague Lurton (who has made an extraordinary wine) told us, 'At the beginning of harvest we thought it would be a terrible vintage, but then we had beautiful weather through October'.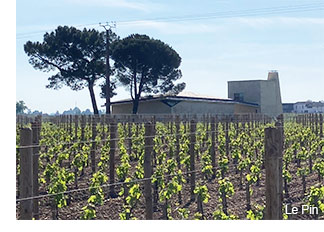 The season
Winter 2020/2021 was mild and wet, and budbreak followed early, in March. An early budbreak brings the danger of a late frost, which can wipe out tender young buds. Sure enough, on April 6th, the weather turned cold and a week of frosts struck. In some places these were severe and caused a lot of damage.
May was cool, June was stormy. Although 2021 was overall drier than average, there were two excessively rainy months: June and September. As the weather warmed up in July, mildew began to spread through the vineyards, demanding great vigilance. The June rains also meant the vines did not suffer hydric stress through the summer. That's not ideal – a bit of water stress makes vines concentrate on ripening grapes rather than shooting out more foliage. The summer months were cool and ripening was slower than usual. That's no bad thing; a slow ripening allows for more complex flavours to develop. Veraison (when grapes change colour and start to ripen) arrived in early August. Usually the hottest day of the year in Bordeaux will fall in one of June, July or August, but in 2021 it fell on September 6, when temperatures reached 33 degrees. Ripening accelerated, but September also saw heavy rains.
Nerves of steel
Harvest-time came later than in recent vintages. Winemakers usually estimate that harvest will follow 100 days after flowering, but in 2021 it was more like 125. Merlot was picked from the end of September, under threatening skies; September rains meant that the berries were swollen. Cabernet was not yet ripe, but at the start of October the weather forecast was for more heavy rain. Winemakers across the region faced a dilemma; either bring in underripe fruit immediately, or leave the grapes on the vine so they could ripen properly, but run the risk of the grapes being further swollen.
Some exhausted winemakers hedged their bets, and harvested underripe Cabernet. But it was a bad call. The best winemakers held their nerve, and were rewarded. Very little of the forecast rain materialized, and hot, dry conditions set in. Over the next fortnight, Cabernet grapes lost 30% of their weight before they were ripe and ready to harvest. It was the happy ending many vignerons hadn't dared hope for.

Failing forecasts
The heavy rain forecast for early October was not the only failing of weather forecasting in 2021. Throughout the season, vignerons had been complaining that forecasts seemed less reliable than usual. In fact, this was a phenomenon of a Covid vintage. There were far fewer airplanes in the air giving the live weather updates that weather forecasters feed on.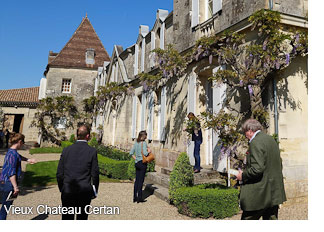 A Cabernet vintage?
Merlot had a tough time of it in 2021. For one thing, as a precocious variety, there were more Merlot buds out early in time to be hit by the April frost. For another, as a thinner-skinned variety, Merlot suffered more from the ravages of mildew. And then the Merlot harvest took place during wetter weather, meaning swollen berries. It is not surprising some commentators are calling this a Cabernet vintage. Certainly, at many (most?) left-bank properties, the proportion of Cabernet Sauvignon in the grand vin is higher than usual, with more Merlot having been moved to the second wine.
And yet, and yet. When I look down my list of candidates for wine of the vintage, there are plenty of names on the right bank; Vieux Chateau Certan, Cheval Blanc, Le Pin and Figeac all leap to mind. Merlot on the right bank was rather less affected by frost and mildew than on the left bank. And in recent vintages, many St-Emilions have been very sweet and concentrated; to my mind, St-Emilion has benefitted immensely from the vein of freshness running through the 2021 vintage.
Commune-by-commune
One of the questions we are asked every Bordeaux vintage is which commune(s) did best. It's never an easy question to answer. Every commune will always throw up great wines, and some not-so-great ones. But in 2021, the left-bank prize goes to Margaux for the number of elegant, expressive, aromatic wines that seem to work so naturally with the vintage. The right bank prize goes to Pomerol for the number of spicy, complex wines whose natural tendency to sweetness has been counterbalanced and given lift by the brisk character of the vintage.
And some scintillating whites
2021 Bordeaux Blancs are tense and scintillating, bright and full of energy. Cool Bordeaux vintages naturally favour the white wines of Pessac-Leognan, and Sauvignon Blanc and Semillon (together with the small minority of other white grape varieties grown here) were brought in before the September rains. We tasted a wide range of 2021 Bordeaux Blanc, and I don't think I saw one that put a foot wrong. Some are floral, some cram in lemon-and-lime aromatics with grass seed and pepper, some are breezily pretty, some are intense and cellarworthy. The top-end 2021 whites are genuinely astounding. If Bordeaux Blanc is your thing, this is not a vintage to miss.
The sad tale of Sauternes and Barsac
Sauternes and Barsac were devastated first by the April frost, and then by hail in June. In summer, botrytis was slow to spread due to the cool weather. Many properties in the area managed to make almost no wine. Suduiraut made a derisory 1 hl/ha. And yet, the wines that were made here are brilliant, combining high energy with intense aromatics.
A frosty reception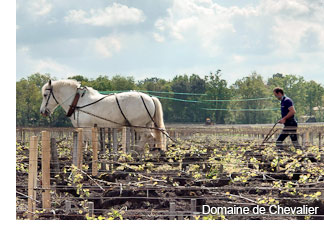 For a vigneron, frost (like hail) is one of those weather events that can wipe out a whole year's work in a very short space of time. Winter frost is no problem unless it gets extremely cold. (In 1956 there was such a severe winter frost that it killed many vines, and mass replantings had to follow – in the end it marked a sea change for Bordeaux, with many chateaux taking the opportunity to change grape varieties and planting densities). The more usual danger is a late frost, which appears after tender young buds have opened – the frost kills the buds which would later flower, then develop into grapes, so the year's crop is wiped out at an early stage. Mild winters (more common in our era of global warming) lead to early budbreak, and so the likelihood that early buds can be killed by a late frost.
The 2021 frost struck irregularly, doing massive damage in some places while passing others by. Over the first three nights, it was a black frost (in which frost crystals are invisible or translucent) deposited by a polar wind. Then there were two more nights of white frost, in which water vapour froze into white crystals. Properties and vineyards right by the Gironde were largely protected. Frost tends to form where cold air gathers at the bottom of slopes, so vineyards with good elevation on a slope (Biac, Troplong-Mondot) were also spared. As ever, low-lying Graves suffered badly, as did the northern Medoc.
What can be done? Many chateaux had their frost candles at the ready. These are small burners which are distributed and lit at intervals through the vineyards, and keep warm air circulating, preventing frost from settling. Getting hundreds of these out into vineyards is a huge logistical operation, and sometimes it just isn't possible to do it in time. Visiting the Graves, we are always struck by the number of heater and fan combinations installed in the vineyards. A 3-meter tall iron heater stands next to a 6-meter tall windmill-like fan; the fan circulates the hot air from the heater.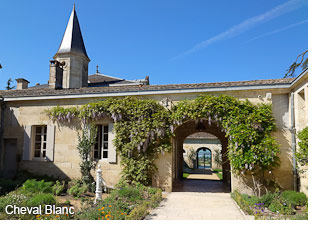 Developments in the vineyard
Buds appear on the vine around March. If they were all allowed to stay on the vine (and then survived all the vagaries of the season's weather) final yields would be very high, meaning a dilute wine. So the vineyard manager decides on an ideal final yield, which in Bordeaux would normally be around 45 hl/ha (hectolitres per hectare), and then debudding takes place: vineyard workers pass through the vineyards and remove a number of buds to bring them in line with that final target.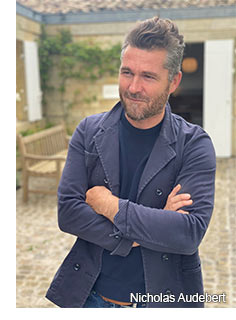 The catch is that throughout the season all sorts of weather and vineyard events can kill off more buds, potentially making final yields much lower than the target. At Rauzan-Segla, Nicolas Audebert is performing a very light-touch March debudding. Instead, debudding becomes a process through the season: buds that show signs of frost damage are removed, and later on bunches that show signs of mildew go. On the one hand, this is a more expensive, labour-intense approach to vineyard management, but it also helps keep up good yields of high quality fruit. The process should be complete before veraison takes place. It's an approach that some other estates are also adopting.
Saignée or chaptalize?
The ideal weight for a Merlot grape at the end of a harvest should be 1.5gm, but September rains meant that in 2021 (especially on the left bank) many Merlot grapes were swollen. At Lagrange, Matthieu Bordes noted that their Merlot grapes were being brought in at between 1.8-2gm/grape. Swollen grapes make dilute wine, so to compensate, most (not all) chateaux needed to perform either saignée or chaptalization on at least some of their vats.
Saignée involves bleeding off a proportion of juice from a tank of crushed red grapes, increasing the ratio of skins to juice, and so making a richer wine with more colour and tannin. Chaptalization involves adding sugar to unfermented grape must in order to increase the alcohol content after fermentation. Both of these processes had largely been thought of as things of the past, last seen in 2013 and before that, 2007.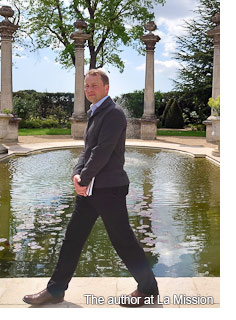 Developments in the cellar
The single most striking thing I saw in any cellar this year was the army of 'terracotta warriors' at Durfort-Vivens. In 2017, Gonzague Lurton introduced two amphorae to his barrel cellar. He liked the finely-polished tannins these amphorae gave the wine so much that he now has 150 amphorae. They recede into the distance in his cellar where there were once rows of barrels. Given how well Durfort-Vivens has turned out, I suspect we may be seeing more cellars go this way. A lot of chateaux told us that their plans for their cellars involved more smaller vats, or more vats of varied sizes, in order to manage a more precise parcel-by-parcel vinification. And this year, some chateaux were keen to show off spanking new cellars. Figeac has a space-age facility, Lynch-Bages has a modern and well-lit one that on the outside looks incongruously like a glass-and-steel office block. For my money, Haut-Bailly wins the prize for most attractive new cellar, with a cavernous circular barrel cellar, a vat room in a circular design that reminds some people of Stonehenge, and an exterior that blends nicely into a hillside.
Coming soon to a wine merchant near you…
A few 2021s have appeared already, but we expect the first significant releases next week. Pricing, as ever, is a closely-guarded secret until release day. In any case, many properties probably don't decide until the last minute when they can see what the neighbours are doing. Sometimes there is a waiting game as nobody wants to be the first to go; sometimes releases come so fast we struggle to keep up. It's always fun. Stay tuned! /NT