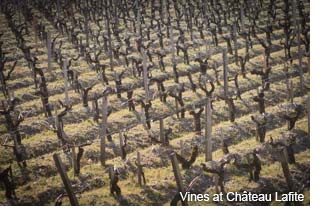 March/April 2015 - Bordeaux UGC week
08/04/15
Bordeaux 2014: final thoughts from a week of tasting
As you know, the 2014 vintage was a toughie for growers, with many points when they thought it was going to be a complete washout. But the Indian summer made it clear that for many, and especially those with a lot of Cabernet grapes, this was a year on the way to producing a lot of very enjoyable wines. Don't write off the Merlot, there is a lot of very good Merlot in Bordeaux in 2014. And while we're on grape varieties, do note that in line with grower's thinking on climate change there is a lot more Petit Verdot and even some Carmenere around these days. 
If you get two months of almost solid sunshine in July and August you are likely to produce a vintage of blockbuster wines. When that weather is dominant during the last part of the season - and extending it for many, then what you have the possibility of making is wines of enormous charm. You also have a good chance of keeping desirable levels of acidity. In August dog day heat, acidity can disappear faster than free drinks at a reception for journalists. In the autumn, even when the French are returning to the beach in droves to lap up the light and the heat, then the evenings are cool and nights can be downright chilly. And of course the days are also shorter, so acidity - manifested as freshness - is retained. You'll also have a lot of wines displaying lively, red fruit, which we tend to prefer to the potentially over-cooked black fruit flavours you'll find in many hot year wines.
So what we found a lot of in 2014 Bordeaux is charm and successfully deftly made wines with fine tannins. What does a charming wine taste like? They don't all taste the same, of course, but the charm partly lies in that crunchily ripe, juicy red fruit, and partly in the texture of the wine. The texture makes the wine feel supple as if it's moulding itself to your mouth and gliding through your palate as stately as Cleopatra's barge. Only smaller.
The key to all this is extraction - the drawing out of the flavours and textures from the grape into the fermenting tank, thence into the barrel and bottle. When we taste wines at such an early stage we're only tasting the results of part of that process. And of course we take for granted the competence of the cellar teams at fining and filtration if they do them, and at bottling. But nevertheless, the raw materal we taste can give us a very good idea of what is going on. And what is going on is a huge amount of this charm, in wines that will likely be very enjoyable in a relatively short time, say from five or six years old in most of the wines we can afford. So those 09s and 10s, and even 05s if you want the best out of them, can stay in the cellar for as long as the need and deserve.
Should you buy? Yes you should, but it depends on price. Don't buy stupidly overpriced wine. Don't buy if you think wine is soome kind of investment. It isn't, and anyway this isn't approaching what some are pleased to call an investment grade vintage. It is actually a vintage for wine lovers, which is many of those I talk to in the shop or on email on a regular basis. It is your kind of wine. And mine. /CW
03/04/15
Bordeaux 2014: Gravity and gravel
The final tasting of the week finds Uncorked at Haut-Brion and includes Prince Robert of Luxembourg's St-Emilion property Quintus. You expect multiple generations of ownership in Bordeaux, but is still seems slightly odd to come across a dynasty of managers. Owner Bobby Deluxe, as he's irreverantly known to the UK trade, wasn't in attendance, but Jean-Philippe Delmas - third generation winemaker; technical director; regisseur - call it what you will - has presided over more than ten years of success since taking over from his father. He told us he thought 2014 could be compared to 1988 or 1998, but reiterated as so many have done this week that it is unique. But those two previous vintages have something of the same freshness that runs through almost every wine we have tasted. Chateau Haut-Brion doesn't really conform to a type because the proportions of different varieties can change so much from vintage to vintage, while retaining the Haut-Brion signature.
Chateau Quintus is 69% Merlot and 31% Cabernet Franc in 2014. There are only 1,500 cases. The wine was showing a touch of reduction this morning and was a bit reticent. Le Clarence de Haut-Brion was 80% Merlot, 4% Cabernet Franc and 16% Cabernet Sauvignon. This was very good, with fruit coated tannins. It's juicy and ripe and has real energy and length.
2014 Chateau La Mission Haut-Brion is 54% Merlot, 1% Cabernet Franc and 45% Cabernet Sauvignon. There will be 6,300 cases for the 70 countries where they sell the wines. There's lots of acidity here, more juicy plummy fruit and depth and richness. It has great persistence and is very well extracted. The big cheese is 50% Merlot, 11% Cabernet Franc and 39% Cabernet Sauvignon. This takes ages to taste because the wine needs coaxing, perhaps more than any other we taste this week. There's fine acidity, graphite minerality and loads of dense structure compiled from some big but finely woven tannins. Over the half an hour or so I had it in front of me, it opened it up, really driving forward with energy with lots of underlying red fruit. Lasts for ages too. 
The whites here are also legendary but much more scarce, with just over 2,200 cases of all three combined. La Clarte de Haut-Brion is 70% Sauvignon and 30% Semillon and gives us tropical fruit with some mineral and oak flavours, all wrapped in an harmonious structure of fine tannins and harmonious acidity. Chateau La Mission Haut-Brion Blanc has more mineral than fruit on the nose. The palate is alot more subtle but has more clout. There's immense persistence and juicy character of grapefruit and greengage. There is still oak but the fruit and energy of the wine is more pronounced. It is 17% Sauvignon and 83% Semillon.
Chateau Haut-Brion Blanc is 32% Sauvignon and 68% Semillon and there will be 600 cases. This has a more lifted acidity and freshness as well as a greater depth and a full, fruity character. There is mouth coating juiciness but at the same time, this is more wine than fruit. This is the first dry white of the week that I would describe as really grown up.
And to their credit Haut-Brion provide the ideal conditions in which to taste. It is a stately process, somewhat akin to a state examination crossed with three star Michelin service , complete with invigilators, albeit friendly ones. The atmosphere is quiet, formal but relaxed and they give you the time you need for these complex wines.
And so to the airport, but time for a marvellous lunch at L'Iguane, unglamorously sited in an airport hotel but with great food and winelist and close enough to walk back to the terminal afterwards.  /CW
02/04/15
2014 Bordeaux: left bank bound
Back in the Medoc for the day, we started in Margaux at Brane-Cantenac, which has an early ripening terroir up on the plateau de Brane with a lot of old Merlot vines. As the Merlot grapes swelled during the summer with the moisture available, so the dry autumn and cool winds concentrated many of them. However a lot of the Merlot here ended up in the Baron de Brane as well as a touch of Carmenere, while Brane-Cantenac is 65% Cabernet this year. This exemplifies one of the main challenges for growers this year: some slightly dilute Merlot, which wanted either concentrating or declassifying. Brane has very nice depth, good texture and a linear palate with great mid-palate. It gets 70% new oak.
If you follow Twitter you may have noticed that some journos have put themselves into some kind of purdah, self-censoring, while others have been trying to intimidate them into silence. There's been a hint of discussion on twatter about Chateaus giving samples from one new oak barrel, even if they age in 50 or 60% new oak normally. Some see this as cheating, I see it as a self-inflicted wound if it happens. 100% new oak samples just pile on more tannin, making wines blockier rather than more attractive.
Next Durfort-Vivens, truly living up to its name with a superb perfomance - easily the best I've tasted with a complex nose and palate of violets, red and blue fruit, with good acidity and energy. Well, Gonzague said when we commented on this, historically the Vivens part of the name came from the life in the wine.
Two other very good wines tasted here were another Margaux: Ferriere and Haut-Bages-Liberal, which has a good mid-palate, fruit, nice acidity and with fresh fruit flavours. It's rounded and not too oaky.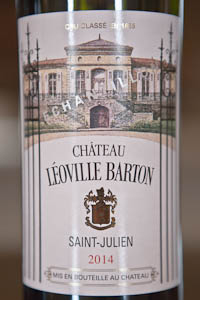 On to Leoville-Barton, where we tasted Mauvesin-Barton first. It's the family's most recent acquisition and intended to be affordable and satisfying claret. To this end the harvesting is mechanical, the only property in the porfolio to do this. It isn't a blockbuster but has a good linear palate, pointing to the quality of the Cabernet Sauvignon. It finishes well with a touch of saline minerality. Langoa has very pretty fruit with an almost garrigue fresh herb and flower element. It has more stuffing than the Mauvesin. On Leoville-Barton the vintage perfume is very evident and so is the Leoville structure. This has power as well as aroma, is very attractive and will make old bones. The finish carries a garrigue/antique wardrobe memory.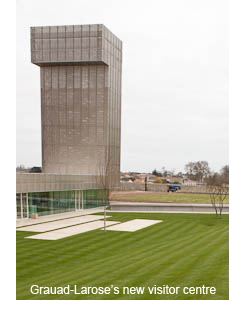 They are doing a lot of work at Gruaud-Larose, replanting both Cabernet and Merlot on appropriate soils. They have remapped the vineyards and have increased the number of defined plots from 80 to 110, with an equivalent number of smaller tanks for the vinification. In the past there was a tradition of high extraction but it is more gentle now. In the gardens they have constructed a new €1.8million visitor centre with space for a tasting room and events. Oh, and a stainless steel tower, which, I'm afraid reminded me of a WW2 German anti aircraft tower as seen on the Channel Islands. Even to the hydraulic powered observation flaps at the top. However when up there you do get a great view, though I expect it's better when there is vegetation. 
Branaire-Ducru certainly counts as the most tasted wine of the week, with 2014, 2012, 2011, 2001 and 1964 all tasted and/or drunk at different moments. You want to know about the 2014, so I'll say that it's on my wish list. Comprising 77% Cabernet Sauvignon, 21% Merlot and 2% Cabernet Franc it carries a nose of violets and red fruit - this is a vintage that seems to bring out the characteristic perfume at the best addresses. The palate has good, woven tannins and a good structure for ageing. It's a very grown up wine, mineral and complex with lots of life.
We popped into Leoville-Poyferré for a quick taste and spot of lunch. It's a popular event in the week and the caterers were doing sterling work coping with the ravening hordes. We were in and out in half an hour. First meeting after that was at St-Pierre, where a new cellar complex is being constructed/remodelled for it and sister property Gloria. Gloria is 60% Cabernet Sauvignon, 30% Merlot, 4% Cabernet Franc and 6% Petit Verdot. It's perfumed, with ripe, sweet fruit, good graphite, balanced acidity and good length. St-Pierre is 78% Cabernet Sauvignon, 16% Merlot and 6% Cabernet Franc. It's fuller flavoured and richer than Gloria as well as having great length. 
Then we were off to Lynch-Moussas, not for the UGC tasting, but for an appointment to taste some of our most popular clarets. Lynch-Bages, Beau-Site, Haut-Bages Monpelou, Batailley, Lynch-Moussas and Domaine de L'Eglise were all on the table and showing well. To single a couple out, Batailley is getting more and more Cabernet Sauvignon focussed, has a lovely, knitted structure with integrated tannins. It has power as well as perfumed Cabernet fruit. At the other end of the spectrum  Eglise has 97% Merlot and wears its 50% odd new oak very lightly.
After this we returned to Grand-Puy-Lacoste to retaste and immediately after the previous visit we benefited from the additional context nad experience. So comparing the two Batailleys, Haut-Batailley is more perfumed, Batailley is more powerful. GPL is more powerful than either but still exhibits more fruit and length backed up with polite oak.
At Montrose we tasted Tronquoy-Lalande, which has a lot of clay and Merlot on it. It has red fruit and plum aromas on the oak inflected nose and good, woven tannins, lots of juicy fruit and a long finish. Dame de Montrose is 37% of production here and is 50% Merlot, 45% CAberbet Sauvignon and 5% Petit Verdot. It's savoury with good fruit and perfume, ripe and with linen tannins.
Montrose itself is 47% of production  and made up of 61% Cabernet Sauvignon, 30% Merlot, 8% Cabernet Franc and 1% Petit Verdot. It's big and elegant with woven tannins and pronounced mineral notes, including a touch of salinity. It has a linear palate and is cool tasting and very fine. Along with Cos, these big St-Estephe properties seem to be returning to making wine on a human scale. 
We found elegance and much of it at Rauzan-Segla, where the 2014 is John Kolasa's final performance as full time chef. It has a charming, fresh fruit nose; it's mouthfilling but with deft fruit. The tannins are finely woven and the acidity contibutes much to the juicy fruit flavours. Sandrine and John say that it's a classic vintage along the lines of 1998, reflecting the Margaux personality with its purity and fruit. And again it's likely to be amazing value.
Finally today to Giscours, where we run into a Viking River Cruises coach. However no sign of a rerun of Lewis. At du Tertre about 40% of the estate is now biodynamic but it's around 100 hectares, so it would be a huge undertaking to convert the whole thing. It's unique in having the same space, shape and configuration as it did in 1855. The wine sees 40% new oak and comprises 58% Cabernet Sauvignon, 20% Cabernet Franc, 12% Petit Verdot and 10% Merlot. It's perfumed, spicey and supple - quite an easy drink now. I think it will be delicious in another five years.
From Giscours, Sirene has loads of red fruit perfume with graphite and a linear palate with good length. this property is big, making over 280,000 bottles and they choose to be sustainable, seeking to reduce treatments wherever possible. Giscours itself is 65% of total production and has 70% Cabernet Sauvignon, 20% Merlot and 10% Petit Verdot. It has more depth and fruit than Sirene - more of everything, in fact. There's some nicely juicy fruit and a slight saline minerality. A busy day but a rewarding one, I think. And not an outrageous delay on the Rocade going home.
01/04/15
2014 Bordeaux: the right bank
Today is a right bank day. We didn't see quite as much gravel and we did see a lot more clay. 
First appointment was at Canon, which is a fine boned wine of pedigree. It has pronounced aromas of fruit scent and flowers, medium body and supple tannins with a floral, lifted finish. On to Figeac, which has apparently confused some. All I can say is that it is a straight up and down Figeac with 60% Cabernets and 40% Merlot from a gravel terroir. It has a good structure, fine grained tannins and shows ripe, red fruit throughout, particularly on the finish. It ain't overextracted and certainly isn't over-oaked. It carries its weight deftly and I think it's excellent. 
At Cheval Blanc the wines are also very good as you might expect. Petit Cheval is all perfume and fruit, lifted red fruit, fine grained tannins and quite long. It's 48% Cabernet Franc and 25% of total production here. Le grand Cheval is 45% Cabernet Franc, 55% Merlot and on the nose has both perfume and stones, with a touch of beetroot. On the palate there is great freshness, but it's all about structure and ageing at the moment. With fine grip, layers of fine-grained tannins and woven through with minerality this isn't a wine of pleasure just now, but a wine of appreciation. You want intellectual delight? This is your wine. Super elegant, super cool, super stony. Freshly bearded Lurton says it is the most Cheval Blanc of any vintage he's been involved with. This wine has a hinterland, has context, isn't a wine for an oligarch only beginning her vinous journey.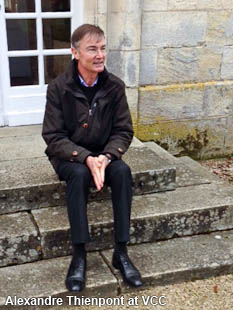 Let us only hope I haven't run out of superlatives, for we progress to Vieux Chateau Certan. At VCC we are fortunate to have a long chat with Alexandre Thienpont as his schedule has a gap in it. He mentioned the very long ripening season, which he said only Bordeaux can do. I can imagine the reaction in Burgundy to a remark like that. For him, one of the keys to success in 2014 is the soil, not the variety. he had heard through the grapevine that Cabernet Franc was the better grape in '14. Not here, where they declassified more than one plot of that variety. Their's is another right bank gravel terroir and the blending of different plots is crucial. The fiche tech is 3 weeks of vatting, max temperature of 28C - 'the new normal for these youngsters like my son' and very little faffing about with the wine in the cellar. Picking took a month, with most sorting in the vineyard. The wine is very specific to 2014 as no other vintage is like it. If you want a comparison, Alexandre said that 2009 and 2010 are barbeque wines, 2014 is for Haute Cuisine.
It's the first wine of the week that greets you outside the glass. There's a pronounced red fruit perfume that's mixed with mineral notes. The palate has all the mineral of Cheval Blanc but with more power and drive and energy. It's powerful and very long. It is complete. It is a strong candidate for wine of the vintage so far.
Comparisons are odious and so am I, but Clinet suffers for being after these two extraordinary behemoths. One of the things we were told was that the ageing process will be very important. It will here, as it gives the wine a chance to catch up a bit. With some wines you think about the barrel ageing as a necessary part of development. With others, as here, it is like a retake for a kid that hasn't done its work in the first place.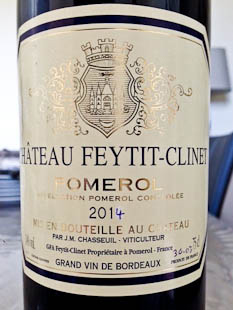 Ah, Feytit-Clinet. Jeremy Chasseuil told us they did two green harvests in 2014, partly because they were anxious it would turn out like 2013. So after veraison they dropped the green bunches and then the uneven fruit nearer full ripeness. He farms sustainably, always looking to reduce treatments. When the fruit is in the vats, they only work it until alcohol appears. Max fermentation temperautre was 29C and cuvaison lasted 25 days. He has made a fantastic, dense wine with very supple tannins -- almost invisible tannins actually. For me, this one is a no-brainer. 93% Merlot, 7% Cabernet Franc.
Chateau Gazin is 95% Merlot, 5% Cabernet Franc and aged in <50% new oak. Total yield was 39hl/ha. It has a really fragrant nose, piercing red fruit. It has fresh fruit flavours and is very promising. A bit of barrel ageing should make this very impressive indeed. It's a gourmand wine with lots of character.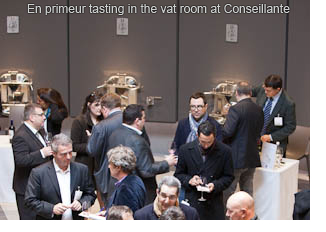 To La Conseillante, where the newish second wine Duo de Conseillante was another with a very aromatic, red fruit nose, more even than Gazin. Conseillante itself is also very aromatic with a distinct red plum aroma. On the palate it derives enormous drive and energy from the perfect acidity and mineral freshness. The tannins are extremely supple and fine and the finish is long. 
Not my first visit to Le Pin, but the first where there is any wine to taste. Both L'If from St-Emilion and Pomerol Le Pin are stunning and made in risibly small quantities. Sorry.
We popped into the St-Emilion UGC, ostensibly to taste the wine of hosts Clos Fourtet. It came across as a slightly old school wine: robust, fresh, long finish. However, I also tasted three other wines that we tasted in situ half an hour later, with as the critics tend not  to say; with completely inconsistent notes. In particular Larcis-Ducasse, Pavie Macquin and Berliquet came across as tough old birds at the UGC, but fragrant and supple tasted at Pavie Macquin shortly afterwords.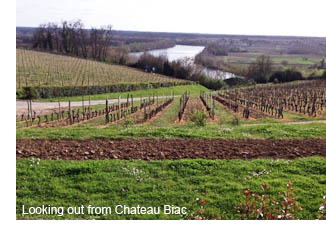 And finally for the day a quick tasting at Chateau Biac, where we looked at separate components of Merlot and Cabernet Sauvignon; not yet assembled. The Merlot was the chunky one, the Cabernet supple and perfumed; fresh bramble fruit. They will make a good combination when blended. /CW
31/03/15
2014 Bordeaux: Pessac and Sauternes
Early evening sees the first sunshine of the week. It's most welcome after a day of tramping through wet Pessac and Sauternes terroir, even when at Smith Haut-Lafitte they have nailed a red carpet to the pathway. 'It's nearly stopped raining', was the day's refrain.
We started at Latour-Martillac this morning, where the Merlot was affectd by uneven ripening, due to their enlarged size, so a bigger proportion (66%) of Cabernet Sauvignon and 7% Petit Verdot than usual, but it doesn't do this nicely textured wine any harm. The white at 70% Sauvignon and 30% Semillon didn't undergo Malo and spends 11 months in oak, 25% of which is new, followed by 13 months in tank on its lees. Great value wine.
At Haut-Bailly we tasted the second vintage of their Le Pape: the first vintage was 2012 and they didn't make a '13 in case that's ever a question in your pub quiz. Mostly Merlot, it's ripe and suave with good tannins and mid-palate. La Parde from Haut-Bailly was more perfumed, had more oomph and offered a streamlined structure of ripe fruit and fine grained tannins. Long finish and a very good wine. The Haut-Bailly itself was problematic for me. First because it was so impressive rather than charming; it's highly structured, slightly armour-plated. It is still perfumed, but much of the fruit and perfume are repressed. It's not over extracted, but it is concentrated - in part by the following wine, which is Rosé, not made since 2011 and here used as a device to concentrate the red by removing some of the liquid. Perhaps a little too much in this case. Haut-Bailly is one of my favourite Bordeaux properties and Veronique Sanders one of my favourite managers, so I want to love this wine. I'll reserve judgement.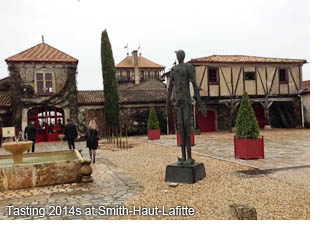 On to the UGC at Smith Haut Lafitte, where we tasted a range of wines from the AOC, some good, some not so. The hosts were among the highlights of the reds, as were Carmes Haut-Brion, Domaine de Chevalier, de Fieuzal. Pape-Clement also scored with their white as did La Louviere, SHL again and Larrivet Haut-Brion. To Chevalier for tasting and lunch, where it's difficult to taste properly because the place always stinks of wood ash and smoke from the enormous fire. Nice lunch though, thank you!
Down to Barsac after lunch to taste the components of Climens. Some micro blending had already taken place so there were but 6 different lots to run through. We started with the early passes from September and ended with the late October picking. This Biodynamic property under the inspirational leadership of Berenice Lurton might not make much wine - 6 hl/ha in 2014! - or any money, but she does make fantastic wine through huge attention to detail at harvest time and therefore expense. Extraordinary wine and the best since before 2010 and perhaps ever. Now fully Biodyvin certified.
On to Yquem where we tasted the 2013 Ygrec, of which 10,000 bottles are made and which is a fabulously restrained and classy wine, giving quite the opposite impression from the gilded smoke detectors in the gold ceiling. Restrained, even slightly austere with lime leaf, a touch of herbs and menthol, great acidity and cleansing minerality. The 2014 Yquem was a delicate surprise. It was as though they had set out to make a Barsac like Climens. They preferred the early passes through the vineyard and like the freshness. There are 134g/l of sugar compared to 145g/l at Climens.
It's April 1st tomorrow and I see someone has got into my inbox with an early April fool: a new wine and lifestyle magazine called Le Pan. Nice try.
Since tomorrow is April 1st, we had better talk about Bordeaux pricing today, ladies and gentlemen. We know that many properties in Bordeaux produce much less wine than they used to do. We also know that some parts of the market are as saturated as many of the vineyards are at the moment. Proprietors have to realise that consumers; people who drink Bordeaux and have a lot in their cellars, need a reason to buy more. That reason isn't a Chateau's optical sorting machine, nor is it habit any more, it is good to great quality wine, according to vintage, at a sensible price that they'll want to drink. There are some quite decent wines out there for which some very high prices are being asked. 
Then again, some proprietors are very ambitious. They want to charge first growth prices, but in that case you had better make sure that you have first growth terroir and not just first growth extraction. Will the departure of Parker make a difference? I don't think so, except perhaps for some dodgy boiler room so-called wine investment companies. But we shouldn't get carried away with 'Le Bordeaux-Bashing', for there are some very honest wines at reasonable cost, and as this afternoon showed, some heartbreaking wines like Climens that genuinely are produced at a loss. And unlike Rieussec, not made specifically as a market ruining loss-leader. Climens made the wine of their lives last year and won't see a return. Remember, there are over eight thousand other producers in the region in a hand to mouth situation. So this plea to save yourselves is addressed to the gilded few. Don't take us for granted. You need us more than we need you. /CW
30/03/15
2014 Bordeaux: the sunshine is in the glass
Because the sunshine is definitely not in the sky. Today was a day of low cloud and drizzle such that one couldn't see the nuclear power plant across the estuary. Even the lamprey catching houses were obscured at times. However our trip round the Haut Medoc was not dampened by the weather. Starting in St-Estephe we tried Cos d'Estournel, clearly benefiting from a return to form over the last few years after the nonsense of over extraction blighted it. Quite elegant it was and deft. Grand Puy Lacoste, Haut-Batailley et al all showed the rewards of light extraction with red fruit. Today we started to get to grips with the pattern of the growing season. More details came our way than have been shared in the harvest reports. For instance that the right bank had twice as much summer and autumn rain as the Haut-Medoc. We know about how local hail is and tasted the results with Pibran, which is 70% Merlot this year because of hail hitting a patch of Cabernet Sauvignon. 
We have also witnessed the result of Le Bordeaux-Bashing - a new bit of franglais for me - which has made some representatives defensive in the extreme, while others: Bruno Borie in particular, have launched a charm offensive and are expansive. Though it doesn't necessarily mean they have emerged from the Bordeaux bubble. It must be the fog that isolates some very intelligent people from reality. For most of today I was with a party of people who, as well as being merchants as a day job, are keen consumers of Bordeaux. It was galling for them to be informed that the business of Bordeaux is conducted between the chateau and the negociant. The consumer apparently has no part in this business. Having relocated my jaw, I was still speechless at such ignorance of how a market works. I know some very wealthy idiots.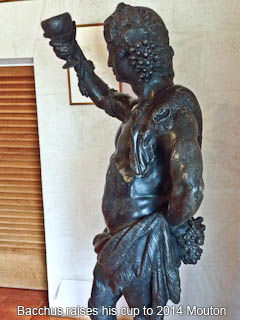 We taste at Mouton-Rothschild, actually a relaxed process. Mouton itself is a tour de force I think with plenty of aroma and stuffing in the mid palate. It is very impressive and not without charm. Armailhac is charming, Clerc-Milon is more muscular and Petit Mouton has just been sulphured and is tough to taste. At Pontet-Canet I am seduced by the Burgundian complexity and light-on-its-feet wine. Those amphorae contribute much to the purity of the fruit. They considered the 'egg' fermenting vessel, but find the amphora much more conducive to balance. No horses in the vineyard, but in their stables watching a huge delivery of straw with much interest.
Lunch at Pontet-Canet is a regular treat, of which the talking point is the 10 metre 'cheeseboard', where there is a permanent queue, even of our lactose intolerant friends from the far east. Easy to see why when the scent greets you before the lady on the door.
After lunch Ducru Beaucaillou, the Pichons and the Leovilles, followed by Margaux and Palmer. Of the afternoon tastings, for me Margaux and Ducru steal the show, though Potensac isn't shabby and Chateau Palmer now counts as a natural wine. 
What is the key to making successful wine in 2014? Seems to be more what happened in the cellar. Light extraction - if you like the 'infusion' of 2013, though for different reasons entirely, and often combined with low temperature ferments. These were often restricted to 27C, a good 5 degrees cooler than normal highs. So why the light extraction? In 2013 growers were dealing with fragile fruit lacking much structure, while in 2014 they had thick skinned fruit with huge perfumes. They had to get the aromas without harsh tannins, hence the gentle treatment in the cellars.  
29/03/15
2014 Bordeaux - on the ground, thankfully
Today was not a good day for the nervous flier taking off at lunchtime. It was windy and though there were white knuckles in adjoining seats, the LRB took all my concentration and prevented worry. Thank goodness for writing. Why oh why has nobody in the hire car industry designed a check out procedure that doesn't involve prolonged customer contact, the firing up of laptops to prove something or other and general useless bureacracy? It must be possible. Perhaps we need a tech company to do it. Could zipcars have airport franchises? Anyway, off to Uncorked HQ, at Chateau Biac in Langoiran. And almost immediately to Chateau Guiraud in Sauternes for the first tasting of the week and something billed as a buffet. The only disappointment was the volume of buffet, for we were hungry, dear reader and sometimes quality does not substitute for quantity. The 2014 Guiraud whites were mineral and grippy, the 1985 Domaine de Chevalier from Imperial entirely as it should be. Foodwise, oysters, pata negra and discs of seared FG don't come better, but they do come more. So we decamped to Cafe de l'Esperance in Bouliac for some fine, no-nonsense grub, cote de veau in my case, perfectly hung and grilled and a bottle of 2006 Phelan-Segur. Now, bedtime as we leave at 7.30 for our first appointment in the morning at Chateau Montrose. /CW
25/03/15
2014 Bordeaux expectations part 2: what's in those barrels
Not many people have tasted much from 2014 as yet. The estimable Julia Harding MW has perfume as her theme from her preliminary tasting and James Suckling shares this and postulates that it is a Cabernet Sauvignon year.  He says it reminds him of 1996, which wasn't too shabby. Some mention hard tannins, most say that extractions haven't been overdone and that textures are supple and wines fruit-forward.
In os veritas, as we don't very often say. We wait and see and we'll let you know once we've done some tasting. Meanwhile, it's off to pack some red trousers and subtley checked country shirtings. Pip pip. /CW
24/03/15
2014 Bordeaux expectations part 1: what's blowin' in the wind
Think of the 2014 Bordeaux growing season as a pair of beautiful, antique, carved walnut bookends cradling the complete works of John Grisham. Forget the middle bit, concentrate on what's holding it up. The winter was warm and wet, giving the vines a reservoir of water for the coming season and as importantly meant that pruning could happen at will. Most importantly of all, it gave the season an early kick start, essential for a relatively early harvest that avoids the worst of the autumn equinox storms. Spring flowering was conducted in good weather, great for yields and hopefully for even ripening later. The presence throughout the whole of the season of both powdery and downy mildews triggered the need for vigilance and an enormous amount of work, especially for the growing number of organic and biodynamic properties.
July was damp and lacking in the essential for a good season, light. The early season gains were reversed and the fruit didn't change colour until well into August. August was a cool and cloudy month, but largely dry, so again fruit development proceeded slowly. However, this marks the final volume of Grisham and we turn to the second, beautiful bookend. The end of August and the whole of September enjoyed warm, dry, classic high pressure weather. In fact it stayed like that until the end of October.
Dry white fruit picking was done throughout September - Sauvignon Blanc first, then Semillon. The Merlot harvest started late in September and at least in St-Emilion, carried on until the end of October. The Cabernet harvest began in the first half of October. The weather continued fine, turning into one of the longest and latest Indian summers on record. Just as well as some red picking was still going on into November. So the region had gone from a forecasted two week early harvest to a very late one. The situation in Sauternes and associated communes was pretty desperate as it was so dry. Lots of mini harvests, lots of discarded fruit until nearly the end of October, when botrytis finally took hold. Nevertheless the final yields are miniscule at a little over 8 hls/ha (hectolitres per hectare in case you're wondering). /CW
23/03/15
Hand luggage only
Next week is UGC week, or Holy Week as it is otherwise known. The Union des Grands Crus get together as only French farmers can and the world's fine wine trade and critics descend for a week for dawn to dusk analysis and information exchange. Lunch and gossip probably covers it fairly well. We're based in Cadillac, which makes the first morning's schlep round the Bordeaux ring road a tad wearisome. However, we will get to see what Bernard Arnault's spent his most recent EU grant on and that's always a privilege. As in Burgundy, I'll be attempting to fight off the temptation to get any sleep while keeping this blog up to date, correctly spelled and not sarcastic. So we'll see how that goes. As ever we'll be twitting so do follow us for pics and impressions as we go round. /CW