Chateau de Beaucastel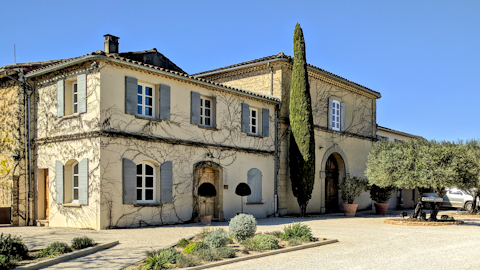 Although the first record of vines on the property dates back to the mid sixteenth century, it has only been owned by the Perrin family for fewer than 100 years. The family have increased their holdings over the years, partly purchasing and partly leasing land that they cultivate. Since 1964 no pesticides or artificial fertilisers have been used on the vineyards and ploughing is used to control both weeds and vine vigour. Some aspects of organic and biodynamic regimens are followed but the family is not interested in certification.
All thirteen permitted grape varieties are grown and used in the main red, with an unusually large proportion of Mouvedre an estate signature. Perhaps the most distinctive part of vinification here is that after sorting all fruit is flash heated and cooled before an extended maceration prior to fermentation. Only Syrah spends any time in new oak, all other varieties are matured in large old casks. The whites are highly prized, with the varietal Roussanne particularly long lived. Vinification of the whites has changed very recently and malolactic is no longer allowed. Altogether a fine estate with a distinguished history.