Sesti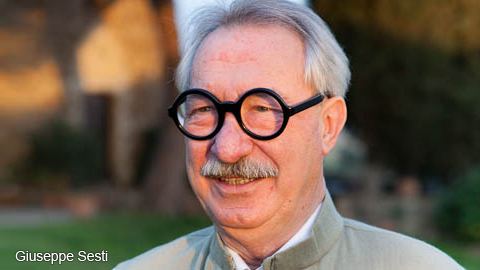 There are few - if any - more romantic stories in wine than that of Giuseppe Sesti. Having studied fresco painting in Venice, on graduation Giuseppe found that there was little demand for his skills. Instead, he dedicated himself to the study of astronomy, going on to write five books on the subject. By 1975, long before biodynamism had entered the vinous vocabulary, he`d published tables of the small and larger moon cycles for agricultural use in order to reduce the use of chemicals on the land.
Along the way, he met a posh Shropshire girl called Sarah. Outcast by her family for running off with a penniless Italian artist, in 1972 the two of them fell in love with an abandoned and overgrown medieval hamlet in southern Tuscany centred on the Castello di Argiano. For thirty years Giuseppe organised the festival of Baroque opera at Batignano, at the same time as restoring the estate.
The Sesti vineyards are on the warmer southern side of Montalcino, but they are fairly high up and exposed to the Tyrrhenian breezes. Of course being Giuseppe, although Sesti practise 'biodynamics', it doesn't count because the official calendar is wrong and Giuseppe's is right. They don't just make the most exquisite natural wine but the pepperiest olive oil you've ever tasted.
It would be ridiculous to suggest that this is a not for profit organisation, but it is fair to say that the family invest everything back into the land and the estate buildings. They take their responsibilities as custodians of their holdings very seriously, while making the most delicious wines. (CW 13/05/20)