J Rochioli Vineyards & Winery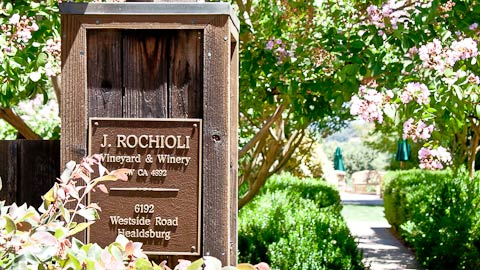 The Rochioli family may be a taciturn bunch, but their focus is on great winegrowing, not public relations. They were early into everything they grow and one of their great advantages is older vines than most people possess. Since they started winemaking (only in the eighties) they have won numerous awards and enormous respect and affection. Many of these are in extremely short supply, with a five year wait to get on the mailing list. The wines are beautifully pure and current family head Tom Rochioli was inspired by trips to Burgundy to further exploit the fine terroirs of his land.
What is now a third generation American wine farm was founded by a family of Tuscan émigrés who moved across the Atlantic in 1911. They started with nothing and everybody in the family working as labourers. After nearly 25 years they moved to a mixed farm near where they lived in the Russian River Valley. In the 1950s they had enough money to buy it. Part of the ranch was planted with `jug wine` varieties, but 55 years ago they planted Sauvignon Blanc and Cabernet.
With hindsight we know that Cabernet doesn`t work here, but the Sauvignon Blanc, some of the oldest vines of that variety in California, was an inspiration. A few years later the planting of Pinot Noir began followed shortly by Chardonnay. The inspiration continues as admiring critics and legions of fine wine fans will attest. (CW 26/09/14)
There are currently no wines for this area.