2014 Bordeaux en primeur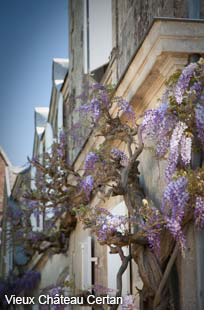 2014 Bordeaux en primeur: freshness, charm… and tension
Plus dinner with The Wall Street Journal (and a French legend)
For the first time in four years, we returned from Bordeaux last Friday disappointed that our expectations of the new vintage had merely been met - and not exceeded. We were aware before our departure that 2014 is a very good vintage. Our tastings reinforced that impression. Although one or two properties claimed a likeness to 2010, to us the wines are more in the mould of 2001, 2006 or (especially) 2008.
The week began cool and drizzly, and then turned fresher. Despite protests to the contrary, tasting rooms were quiet, and chateau owners and managers were out in force and turning on the charm. As well they might, because after five years of high prices, many of them were getting a hard time, so much so that the vintage gave rise to a new bit of franglais, 'le Bordeaux bashing.' At times, this negative sentiment overshadowed the wines themselves. At Pichon-Baron, an innocent question about the state of the market elicited a surprisingly stroppy response from Christian Seely, which was anything but charming. At Rauzan-Segla, a refreshingly frank and soon-to-retire John Kolasa talked of tension in the air and expressed his disgust with some of his peers, wondering how many more mistakes they could possibly make.
Conveniently, freshness, charm and tension also characterise the wines. After an early flowering, the vines burst into life during a warm April. May was cool, but in June the sun came out, only to disappear for much of July and August, which were distinctly cool. The harvest was only saved by exceptional late season weather. A dry and sunny six weeks from the end of August saw the warmest September since '61. This concentrated the musts and saved the vintage.
It may be the best since 2010, but 2014 wasn't an easy year like that or its immediate predecessor. Considerable resources and a huge amount of hard graft were required to produce great wine. The results were especially mixed on the right bank where the better weather came a little too late for some of the earlier ripening Merlot. St-Estephe, Pauillac and St-Julien were the most consistent appellations, though some of the whites - both dry and sweet - are outstanding (Climens being a compelling candidate for wine of the vintage). Apart from the first growths, our shortlist of favourites included Montrose, Grand-Puy-Lacoste, Pichon Lalande, Branaire-Ducru, Brane-Cantenac, Rauzan-Segla, Domaine de Chevalier (red and white), Feytit-Clinet, Vieux Chateau Certan (another wine-of-the-vintage candidate) and Clos Fourtet.
In the end, it is pricing that will decide the fate of each 2014 release. During the week we spent much time with Will Lyons, wine columnist for The Wall Street Journal. In a recent article Will calculated that a consumer who'd bought one case of each of the five left bank 2010 vintage first growths on release in spring 2011 will be sitting on a paper loss of £16,194. Ouch. Joining us for dinner one night was Jacques Dupont, legendary wine writer for the French weekly Le Point magazine. As well as explaining how the French state effectively supports the Bordeaux market, he suggested that he may cease to taste the top classed growths if their prices continue to make them irrelevant to his readers. Of course, speculation has always been an intrinsic element of the Bordeaux system. Like other markets, it has a cyclical problem which sucks in buyers when prices are rising, and repels them when they are falling. In a sense, it's only once everyone's decided that Bordeaux is no longer worth buying en primeur that we get to the point where Bordeaux is worth buying en primeur. When it works, the system is capable of selling an immense volume of fine wine all around the world, very efficiently, in a very short period of time. But it only works when the price is right.
The wines we'll be offering are displayed below. Tasting notes, scores and prices will be added as they become available and offers of significant releases sent by email. In the meantime, we'll be delighted to receive pre-orders - under no obligation - in person, by phone or email, or by clicking 'Order' or 'Buy' here on the website. The wines will be shipped and made physically available in 2017. /AR