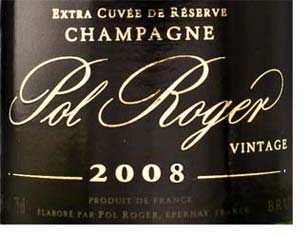 'As good as the 1874'
Over 160 years, Pol Roger has established itself as one of the most distinguished of all champagne houses. The release of their 2008 has been highly anticipated and the vintage is already being touted as one of the great vintages in Pol's history - Pol even liken it to the 1874, the vintage that established their reputation. Winston Churchill was famously Pol Roger's top customer and very aptly 2008 marks the 100th anniversary of his first purchase from them. Equally famously Churchill was easily satisfied - with the best. So we think he would enormously enjoy this.
Despite climate change and the general improvement in the ability of the Champenois to get ripe fruit more often, it is still relatively rare to see a great vintage. 2008 in Champagne was a late vintage with a slow and long growing season giving wines with a great balance.
The 08 Pol Roger itself is already both complex and delicious but it has all the hallmarks of a vintage that will age tremendously well. This means that with a few years in the cellar, the rewards of a little patience will be great. The 2008 is made from the traditional house vintage blend of 60% Pinot Noir and 40% Chardonnay from 20 grand and premier cru vineyards in the 'Montagne de Reims' and the 'Côte des Blancs'. Pol Roger are after all vintage specialists and provide great value. /NT
Offered subject to remaining unsold; available April 2017