Belondrade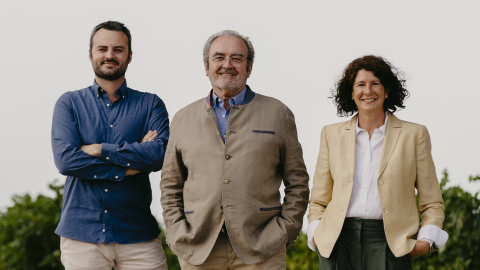 The Belondrade story began in the early 1990s, when hispanophile Frenchman Didier Belondrade had a brainwave. He realised he could vinify Rueda Verdejo with barrel fermentation and aging to make a white wine in the Burgundian idiom he so loved. His first vintage was 1994, made with rented vines and borrowed space in someone else`s winery; it was a big commercial hit. Success then followed success, and the Belondrades now have a lavish winery of their own. They have picked up many choice vineyard plots in the locality (every one carefully mapped for soil types), and Belondrade y Lurton is regularly cited as among Spain`s very best white wines. These days, while Didier is still in charge, front of house is now very much his charming son Jean, who seems as Spanish as he is French.
Rueda can be a pretty harsh place to make wine. In summer, temperatures can soar as high as forty degrees, while on winter nights they can drop to minus fifteen. Yet as Jean explains, that extreme variation can be key to making white wines that combine ripeness and acidity. In the winery and cellar, they maintain a scrupulous oak regime, using 4 different coopers from both Bordeaux and Burgundy. They only use 300-litre barrels, as they consider these offer the perfect surface to volume ratio of oak and wine, and they cycle out 25% of their barrels every year to maintain the balance of old and new wood. But the oak regime takes a backseat when it comes to their other wine, which we are also delighted to offer. the Quinta Apolonia. Here, the aim is to create a more transparent, varietally-classic Verdejo; it is a fresh and zippy white, beautifully characterised by notes of citrus and bay. (NT 08/07/15)
There are currently no wines for this area.